Gîte« Les Vicomtés»
An authentic gîte to discover in the heart of Montagne de Reims.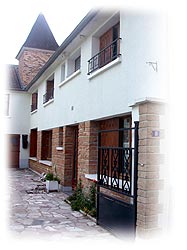 If you want to spend a week end, a week in our beautiful Region, we will be happy to welcome you in our gîte 6 persons.
Practical and functional, this gîte is composed of 3 rooms, a bathroom, an equipped kitchen and a dining room.
It is situated in the heart of old Rilly La Montagne in a sympathetic environment, near a small shopping centre… and at few kilometres of excellent restaurants in the village as well as surrounding villages and Reims.


Gîte « Les Vicomtés »
8 rue de Valmy - 51500 Rilly-la-Montagne
Reservation with Béatrice Fagot
1 Allée Dom Pérignon - 51500 Rilly-la-Montagne
Tél. : 03.26.03.45.22 - Fax : 03.26.03.37.17

Rentif tarif
Renting gîte for 6 persons maximum:
For a night: 90 €.
For a week-end: 150 €.
For a week: 300 €.
Cleaning optional: 45 €
Bed sheets optional: 10 € par chambre


Also available
A reception room for 15 or 20 persons.
For a day: 75 €.
For a week-end: 135 €.
For any extra information please do call on.