Our technical know-how
The work of the Vine
75% of our activity takes place in our vine yards. It is the origin of the quality of the wine that starts from the very first moments.
From October to January: Preparation of the strimming, spreading of manure.
From February to March: Pruning is the most delicate operation. That is to select only the future carrying of branches good grapes. Wiring immediately follows this pruning.
From April to May: After disbudding, the vines are lifted (raised) in order to contain vegetation of the vine plants.
In June: Trellising allows to aerate the vines to limit the different diseases. Stradler tractor can then pass to crop and thus favorising the growth of the grapes.
In September: It's the fulfillment of any work of the year.
Patience: your Champagne is not in the vats yet. It's on the way. It will be ready very soon. Once picked up, the grapes are pressed, the juice flows into vats and its first alcoholic fermentation can begin. Following the second malolactic fermentation, the transition to the cold that allows us to prepare the wine bottling. It's then that the technic of the winemaker will take all its dimension in the choice of the blendings that will make this wine the Champagne you can taste very soon.
March/ April of the following year: Bottling takes place after a rigourous blending and analysis in a laboratory wich will make us know the future Champagne.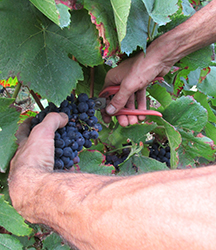 It's at least 15 month later (for us, is 24 month later in order to assure a better quality) and after the sparkling, the first bottles can be prepared and place on your table, for drinking.
After the riddling period, to eliminate the deposit (sediment), bottles are disgorged and dosaged to become a Champagne Brut Sec or Demi Sec. The Champagne is definately labelled and it can be put on your table for degustation.
Between bottling and sale, we always respect a minimum period of 2 years for Cuvée Carte Blanche and sometimes until 10 or more years for vintages.
Vinification and tradition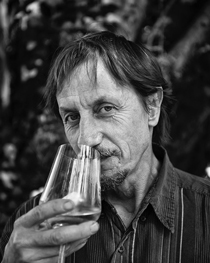 Champagne wine making is a number of very precised handling that require particular expertise. From pressing to the alcoholic fermentation, blending to the riddling, disgorging to the dosage, until the time the bottle arrives on your table, every stage is made in respect of tradition Champenoise according to the methods of father to son.
For each House, the most crucial moment is the blending. Once a year, such a ritual, Béatrice and Hubert FAGOT in the company of their oenologist blend with subtlety still wine and reserved wine, region and grapes varieties depending on their sensitivity and emotions. Therefore, they create this unique and inimitable style wich reflects the character of the vineyard's winemaker.